Spreyton Bakery Cafe Menu
For your convenience, download and print our menu and have it handy when you get the munchies or need morning tea , lunch or anything else.
Just fax it to us and we'll make sure your order is ready when you come in to pick it up.
Choose from our wide variety of freshly baked breads & rolls, awesome selection of cakes, fruit buns, scones, savouries and more!
Need cake for a large group or family function? Then look no further! Spreyton Bakery offer catering options to suit your needs.
Credit Application Form
If you would like to start an account with us all you need to do is download and print this Credit Application Form, fill it in and fax it back to us.
We will advise you once your application has been processed.
Let us tantalise your taste buds…
We are up early every morning to make sure our products are there on the counter or in the showcase
when you need them. We bake at least twice a day. to make sure you receive the freshest and the best.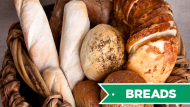 A Selection Of Breads
Here at Spreyton Bakery, every day we produce and bake some of the finest breads just for you, so come on in and try our lovely rye, wholemeal, grain or white we are sure you won´t be disappointed! We even stock Gluten Free bread, for those with a wheat allergy.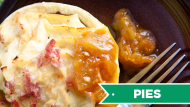 Beautiful Crusty Pies
Freshly baked every day, scrumptious pies are created here at Spreyton Bakery, whether you need take way, eat in or for catering, Spreyton Bakery has it all.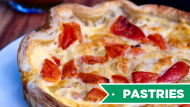 A Great Selection of Pastries
Freshly baked every day, our mouth watering pastries are a must for morning tea's, corporate catering or even a nice easy Sunday lunch or afternoon tea, come on in and check out our delicious range of pastries. Who could ask for more?